Good Friday Rally/Ralliement de Vendredi Saint 2018
Good Friday Rally/Ralliement de Vendredi Saint 2018
March 1, 2018

Grant Freake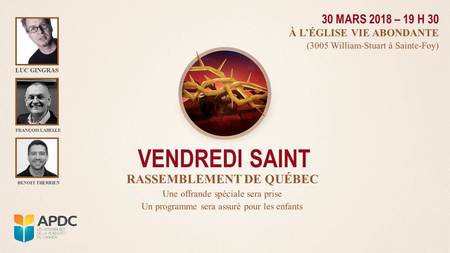 (French will follow)
Come out for a special Good Friday Event with other churches of Québec City and the Quebec Region.
This event will be in French, but English translation may be provided depending upon demand with a special translation system.
Special Worship with Luc Gingras (http://www.lucgingras.com/) and a special tag-team message by local pastors, communion and more. A special children's ministry time will be provided for ages 6-12, and a nursery service for those younger.
Please follow this link for all the details on Facebook: https://www.facebook.com/events/173347980112604/
Cette année, nous célébrerons PÂQUES en grand !

Toutes les églises de la région de Québec sont invitées à se joindre à nous pour ce rassemblement du Vendredi Saint, où nous célèbrerons l'œuvre de Christ à la croix.

Quand : vendredi 30 mars à 19 h 30

Où : à l'ÉVA (3005 William-Stuart à Sainte-Foy, dans les locaux du Centre de Formation Eastern Quebec)

Au programme :
▪ Louange avec Luc Gingras et son groupe
▪ Offrande d'amour pour le ministère de Peter Oram Plus pour Haiti et pour nos invités
▪ Partages de circonstance par les pasteurs François Labelle (Montmagny) et Benoit Therrien (Sainte-Foy)
▪ Temps de communion

Un super programme est prévu pour les enfants du (primaire) ainsi qu'un service de garderie sera offert gratuitement.